Package Contents
Basic Package Includes:
Teacher's Manual
Student Sheets

(purchase one per additional student)

How the Bible Came to Us
The Roman Empire
Augustus Caesar's World
Galen and the Gateway to Medicine
The Story of the World, Volume 2
Medieval World
Trial and Triumph: Stories from Church History
The Human Body for Every Kid
The Body Book
First Encyclopedia of the Human Body
The Wonderful Way Babies Are Made
Exploring Creation with Astronomy
And free gifts:
Deluxe Package Includes the Basic Package Plus:
Best of Haydn, Mozart, and Beethoven — seven-CD set

Includes:
The Story of Haydn with Music
The Best of Haydn
The Story of Mozart with Music
The Best of Mozart (two CDs)
The Story of Beethoven with Music
The Best of Beethoven

Read-Alouds — four-book set

Includes:
The Bronze Bow
Twice Freed
Dangerous Journey
The Door in the Wall

Starting Chess
Make a Castle
Overview
Focus: Life of Jesus and the New Testament
Astronomy and Anatomy
Latin Roots
History Notebook
Timeline
God's Hand in History
Middle Ages through Reformation
Haydn, Beethoven, and Mozart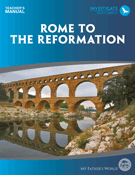 "But when the time had fully come, God sent his Son, born of woman, born under law, to redeem those under law, that we might receive the full rights of sons." Galatians 4:4
Rome to the Reformation follows Creation to the Greeks in our chronological history-based study for students in 2nd - 8th grade. Travel back to the time of the Romans and learn how they set the stage by their Pax Romana for the central event of all history—the birth of Jesus. Follow the development of the church and study the Middle Ages, culminating with the Renaissance and Reformation. Science focuses on the human body and astronomy.
If your family has never used Exploring Countries and Cultures, we highly recommend it before continuing your chronological study of history. This foundational study of countries, cultures, geographic terms, and God's heart for all people makes all future study of history more understandable and retainable.
Rome to the Reformation is a complete curriculum for Bible, history, and science. The Deluxe Package includes music, read-alouds, and several additional hands-on projects (playing chess and constructing a castle).
Teacher's Manual
Daily lesson plans are in an easy-to-use weekly chart format that lists each subject with the appropriate book titles and page numbers to complete each day and information on when and how to use Student Sheets. Most activities are suitable for all ages; some additional reading is scheduled for older students. Many simple hands-on activities are included in the Teacher's Manual to reinforce the study of history. We do the lesson planning for you so that you have more time to enjoy teaching!
Bible/History
Rome, the life of Jesus, early church history, Middle Ages, Renaissance, and Reformation from a Christian perspective.
Bible readings and memory verses.
Hands-on projects: Make a Roman writing tablet, enjoy a Roman feast, construct a Roman arch, sample foods from the Middle Ages, play Medieval games, and more.
Learn to play chess and construct a model castle (both in the Deluxe Package).
Map work, history notebook, and timeline.
Library list of optional, yet recommended books to enrich your study.
Science
Human body - participate in simple experiments and demonstrations as well as make simple models of body systems.
Astronomy - explore the universe from a Christian perspective. Includes hands-on activities.
Optional weekly nature walk and nature journal.
7th and 8th graders use Apologia science instead of the above (purchase separately).
Art and Music
Enjoy hands-on projects from history.
Art lessons include drawing as well as Roman, Early Church, and Middle Ages art from a godly perspective, using God and The History of Art (purchase separately from our Music and Art page).
Music appreciation lessons focus on Haydn, Beethoven, and Mozart with easy-to-use CDs (in the Deluxe Package).
Read-Alouds
Selected books (in the Deluxe Package) that are integrated with the study of history to inspire and develop godly character.
Math, Language Arts, and Foreign Language
Samples
FAQs
Synergy Groups
A Synergy Group™ is two or more families who meet weekly to participate in science, history/geography, art, and music activities from your MFW Teacher's Manual. The group leader uses a Synergy Guide which schedules easy-to-teach group activities with minimal preparation.
Learn more about Synergy groups