S2K Commerce - Products Dropdown
Actions
The Story of the World, Vol. 2
Susan Wise Bauer
ISBN: 9781933339092
Explore the Middle Ages from the fall of Rome to the rise of the Renaissance. Giving an overview of events from around the world, your child will discover the marvelous span of history in an easily accessible story.
Overview
Who discovered chocolate? What happened to Giant Fovor of the Mighty Blows? Why did the Ottoman Turks drag their warships across dry land?
Told in the straightforward, engaging style that has become Susan Wise Bauer's trademark, The Story of the World Volume 2: The Middle Ages covers the sweep of human history from ancient times until the present. Africa, China, Europe, the Americas - find out what has happened all around the world in the centuries before ours and in our own time. This read-aloud series is designed for parents to share with elementary-school children, or for older readers to enjoy alone. Introduce your child to the marvelous story of the world's civilizations!
Newly revised and updated, The Story of the World includes a new timeline, more illustrations, and additional parental aids.
Also available in audio format.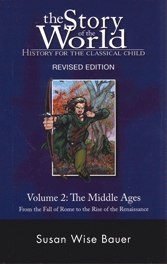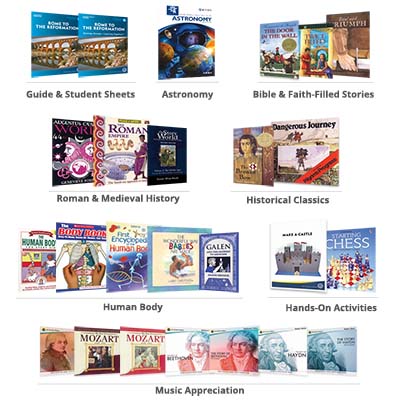 Travel back to the time of the Romans and learn how they set the stage with their Pax Romana for the central event of all history - the birth of Jesus. Gain a New Testament overview with a special focus on the books of Luke, Philippians, and 1 John.
In this year-long curriculum for 4th-8th grade, view Roman civilization, the Middle Ages, the Renaissance, and the Reformation in the context of Christ and the early church, while also studying astronomy and the human body from a biblical perspective.