S2K Commerce - Products Dropdown
Actions
Exploration to 1850 Package
Explore the New World with Leif Ericsson, Christopher Columbus, and others. Discover the amazing story of the U.S. from colonial times to the California gold rush in this year-long curriculum for 4th-8th grade.
Learn about the courage and faith of many who came to America. Help children understand man's struggles in world exploration as your family memorizes the book of James.
Overview
Required / Add-Ons
Contents & Samples
Reviews
"The read-alouds bring the history lessons to life. The best part is the life experiences of real people."

J.W.
4TH - 8TH GRADE
Exploration to 1850
Exploration to 1850 follows Rome to the Reformation in our chronological history-based study for students in 2nd - 8th grade.
Explore the New World with Leif Ericsson, Christopher Columbus, and others; discover the amazing story of the U.S. from colonial times to the California gold rush; and learn about the courage and faith of many who came to America.
Investigate world history and cultures, and see how U.S. and world history are interrelated.
Easy-to-teach lesson plans guide you through each day.
We recommend starting with Exploring Countries and Cultures
If your family has never used Exploring Countries and Cultures, we highly recommend it before continuing your chronological study of history.
This foundational study of countries, cultures, geographic terms, and God's heart for all people makes all future study of history more understandable and retainable.
Do you also have a 2nd or 3rd grader?

Educational Development with My Father's World
Explore the New World
U.S. and World History
Botany and Animal World
Map Work
U.S. Presidents
Christian Faith and Godly Character
Curriculum Details
Daily lesson plans are in an easy-to-use weekly chart format for each subject with page numbers of books to read and instructions.
Many activities will be suitable for all ages; additional activities are suggested for older students.
Many simple hands-on activities are included in the Teacher's Manual to reinforce the study of geography.
Teacher's Manual includes details on using our Math and Language Arts recommendations, which are purchased separately.
Study the book of James using a children's inductive Bible study called Boy, Have I Got Problems! and memorize verses from James.
Be inspired by the stories of Christians from the past when you read Trial and Triumph and In God We Trust, which focuses on the godly faith and character of early Americans.
Study world and U.S. history from the early European explorers of North America through 1850 with a number of helpful books, all fully scheduled in the Teacher's Manual.
Learn about U.S. presidents and U.S. geography with a brief trip through all 50 states (a two-year study that will be completed in next year's program).
Integrate history with art, composition, and handwriting as you make a history notebook.
Enjoy simple hands-on projects, map work, and timeline.
Study your own state (the final 4-6 weeks of the year) as you learn how to write a research paper.
Enrich your study with our library list of optional, yet recommended books.
Add history content for 2nd and 3rd graders with the 2nd–3rd Grade Supplement for Exploration to 1850 (required for 2nd–3rd graders).
Explore the world of plants and animals from a Christian perspective. Includes an introduction to taxonomy (the scientific classification of living things).
Focus on nature journaling in your local area as you study state history at the end of the school year.
7th and 8th graders use a science course instead of the above (purchase separately).
Enjoy hands-on art projects related to history.
Sing the great hymns of our faith and learn their stories, coordinated with this year's history study, using Then Sings My Soul.
Art lessons from a godly perspective, using God and the History of Art (purchase separately).
Music appreciation lessons review music history and focus on Schubert, Mendelssohn, and Chopin with easy-to-use CDs.
Selected books are integrated with the study of history to inspire and develop Christian character.
REQUIRED - Add Language Arts
OPTIONAL - Add Foreign Language
A Synergy Group is two or more families who meet weekly to participate in science, history/geography, art, and music activities from your My Father's World Teacher's Manual.
The group leader uses a Free Synergy Guide which schedules easy-to-teach group activities with minimal preparation.
The Family Learning Cycle
The Family Learning Cycle solves many time management problems.
This curriculum package can be taught to children at several different grade levels, all at the same time.
The concept may take some getting used to, but it has several important benefits for your family.
Add-Ons to Complete Your Curriculum
Package Includes All of the Following
Reviews
Regular written summaries reinforce history material covered and sharpen writing skills. Thanks My Father's World!

C. W.
The read-alouds bring the history lessons to life. The best part is the life experiences of real people.

J. W.
My Father's World helps us accomplish so much more. Our days aren't overloaded, just very full and satisfying.

J. L.
My child was required to take a standardized test through his umbrella school a few weeks ago. I've been struggling this year with self-doubt and questioned whether we should continue to homeschool. Well, no longer! His scores were wonderful as his overall score showed he's an entire grade level ahead and in some individual subjects he scored well beyond his grade level. My Father's World is the only curriculum we've used and we're sticking with it! Thank you for the amazing curriculums, resources, and staff that call and check in on us from time to time. You all are wonderful!

Jaime A.
I have 6 kids (another one on the way). I am incredibly busy! "There is no way I could homeschool my kids without My Father's World. I just open the manual each day and do what it says, and at the end of the day I have complete confidence that my kids are learning everything and more that they need to help them be their God given best."

Kate F.
My family and I cannot thank you enough for your curriculum. I know that you have been working closely with Jesus to create such an amazing gift to homeschoolers. Your curriculum is nothing short of academic genius. I cannot imagine the time and effort you put in to create it. Your book choices alone required extensive research. It would have taken me years to find such profound reading.

Jayne A.
Exploration to 1850 is one of Cathy Duffy's 103 Top Picks! See her review.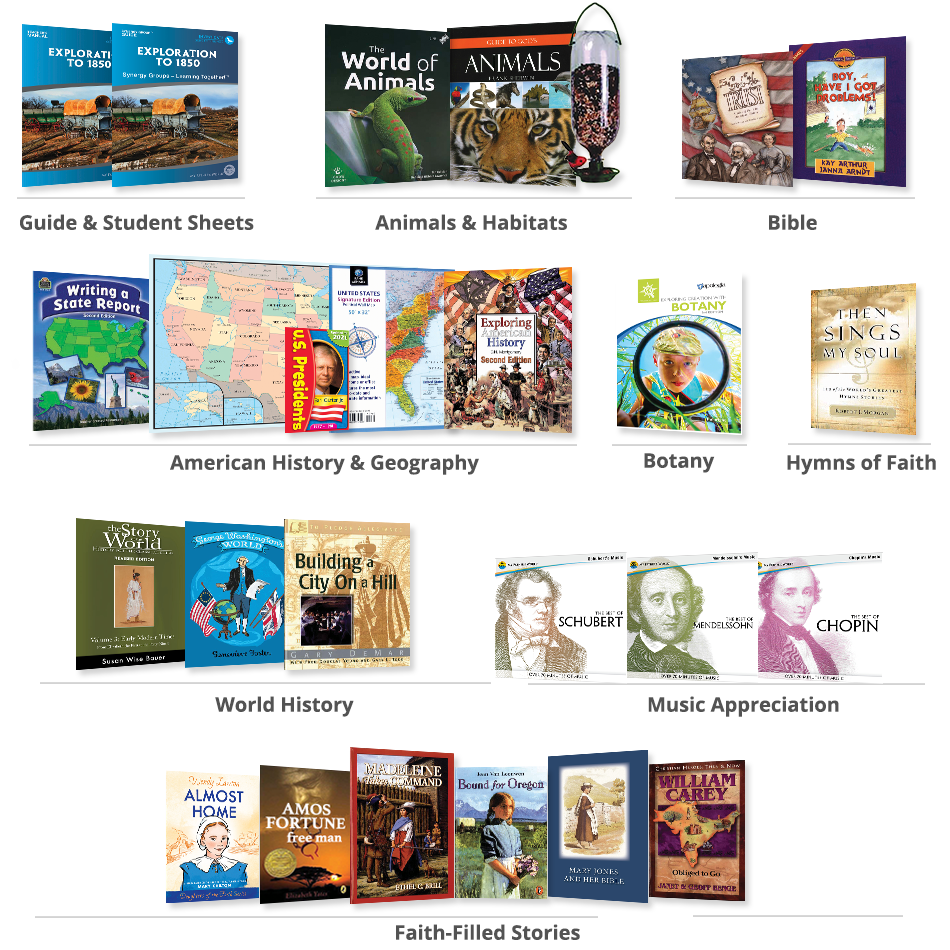 WARNING: CHOKING HAZARD--Small parts. Not for children under 3 years.