S2K Commerce - Products Dropdown
Actions
Exploring Countries and Cultures Package
Travel the world as you explore diverse countries and cultures while learning geography. Read true stories of missionaries and the Gospel of Matthew to understand God's heart for the world. Students are introduced to the physical and spiritual needs of mankind as they learn about ecosystems and lifestyles in different parts of the world. Prepare traditional food, make native crafts, and listen to ethnic music.
3rd - 8th Grade
Exploring Countries & Cultures
Take a trip around the world and explore diverse countries and cultures while learning geography and being challenged by true stories of Christian missionaries. Experience different cultures by preparing traditional food, making native crafts, and listening to ethnic music.

Educational Development
with My Father's World
A Structured Guide for 4 Hours a Day
Teach Multiple Children at Once
Synergy Groups
Hands-On Activities
Kids Learn from Each Other
Global Focus
Our easy-to-teach unit study includes a teacher's manual with daily lesson plans and all required books for Bible, geography, science, art, and music appreciation.
Supplement these with optional picture books and information books from the library for the countries you study. Library books are general resources and you will not need to find specific titles, although we list resources we have found helpful. (For classroom use, please contact us for special ordering information.)
Exploring Countries and Cultures is designed for use with 3rd-8th graders and 2nd graders with older siblings in the program.
If you own the first edition of Exploring Countries and Cultures, there is an upgrade option available.
The Goals of Our Program Are:
Checkmark
Teacher's Manual:Daily lesson plans are in an easy-to-use weekly chart format. Charts list each subject with page numbers of books to read and instructions for using Student Sheets. Many activities will be suitable for all ages; additional activities are suggested for older students. Many simple hands-on activities are included in the Teacher's Manual to reinforce the study of geography. We do the lesson planning for you so you have more time to enjoy teaching!
Checkmark
Bible:True stories from Hero Tales of Christian men and women and the character traits they portrayed as they served as missionaries. Weekly information about different ethnic groups around the world and their specific prayer needs, using Window on the World. Weekly memory verses and daily readings from Matthew.
Checkmark
Geography:Maps and globes are explored with Children's Atlas of God's World, Classroom Atlas, Maps and Globes, and a world wall map, as well as additional hands-on activities. Easy-to-use full-color Geography Game teaches country names and locations. Vocabulary focuses on geographic terms as students make illustrated vocabulary cards using Geography From A to Z. Research skills are developed through the study of continents in Exploring World Geography. Hands-on activities (cooking, flag making, passport, etc.) to explore 15 countries using A Trip Around the World and our Teacher's Manual. Library books provide enrichment for country topics that you study.
Checkmark
Science:A focus on different habitats (desert, rain forest, grassland, forest, polar region, etc.) using Properties of Ecosystems and Living World Encyclopedia, as well as optional library books. Correlates to the country being studied (e.g., rain forest when studying Brazil.) Includes a weekly nature walk and nature journal. For 7th and 8th graders, add a science course (purchase separately).
Checkmark
Reading:Develop a love for reading using "living" books from our excellent library list of picture books, fiction, and non-fiction for each country you study. We list the very best books we have read, but none are required.
Family Learning Cycle
The Family Learning Cycle solves many time management problems with curriculum packages that can be taught to children at several different grade levels all at the same time. It has several important benefits for your family.


Learn More
Synergy Group
A Synergy Group is two or more families who meet weekly to participate in science, history/geography, art, and music activities from your MFW Teacher's Manual. The group leader uses a Synergy Guide which schedules easy-to-teach group activities with minimal preparation.

Learn More


"Exploring Countries and Cultures does a terrific job teaching world geography and is helping us to become sensitive to the need of Jesus in our world."

Annette
Compare Basic & Deluxe Contents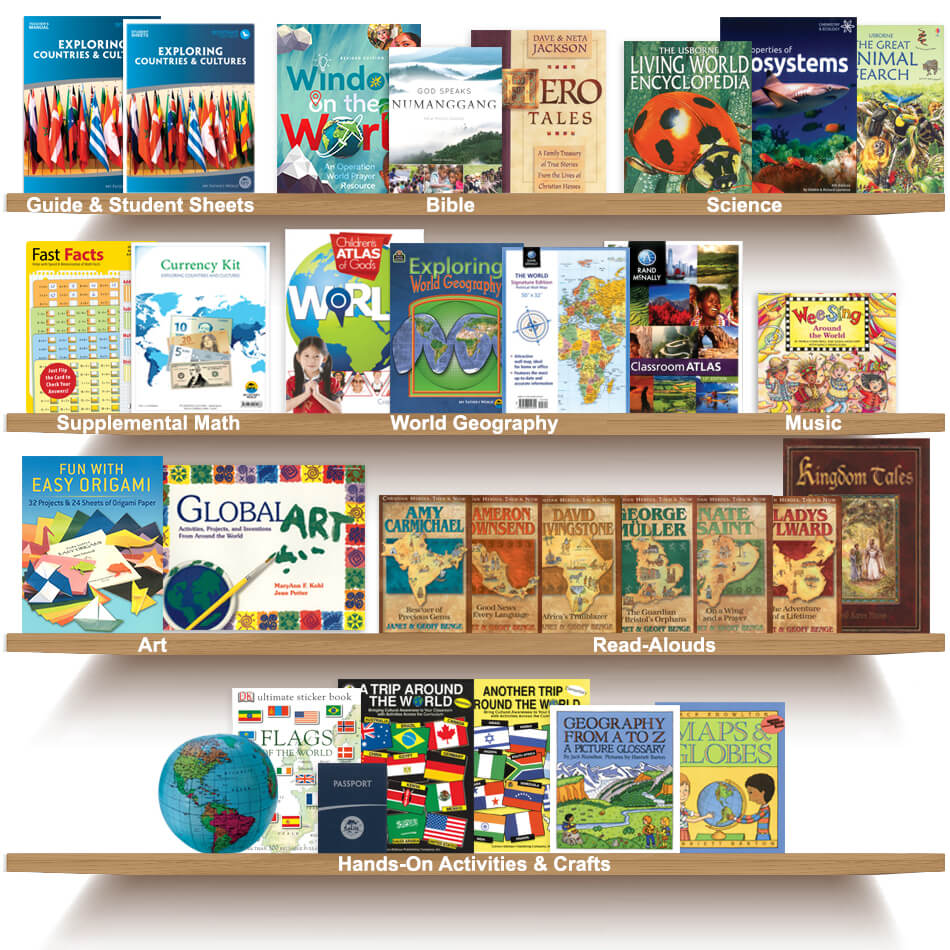 WARNING: CHOKING HAZARD--Small parts. Not for children under 3 years.