Package Contents
Curriculum Package Includes:
Daily Lesson Plans

(purchase one per additional student or photocopy for siblings)
Bible
Spiritual Disciplines for the Christian Life Study Guide (purchase one per additional student)
Journey Journal (purchase one per additional student; one for the parent/teacher is recommended)
Pray for the World
My Heart, Christ's Home
The Hour That Changes the World
Scripture Memory Made Easy
God Owns My Business
Loving God
Counter Culture
Economics*
(second semester)
Common Sense Economics
Money, Greed, and God
Economics for Life

Teacher Guide
Student Guide

(purchase one per additional student)

Test Pack
Online Access Code
*If the student has not already completed Personal Finance, we recommend scheduling the course first semester before taking Economics.
English/Speech
Writing a Research Paper
Do Hard Things
Secrets of Great Communicators

DVD Video Course
CD-ROM Teacher's Guide
Student Text

(purchase one per additional student)
Overview
FOCUS: U.S. History 1877 to the Present and Spiritual Disciplines
Geography
Economics
Current Events
Speech with a Purpose
Modern American Literature
Review Questions and Tests
Lifelong Habits and Practices for Spiritual Growth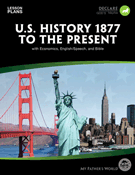 U.S. History 1877 to the Present with Economics, English/Speech, and Bible (3 full-year credits) is a one-year curriculum intended for 12th grade, to follow U.S. History to 1877. You will need to add science, math, and electives such as foreign language.
Lesson plans are written to the student for parent-guided independent work. There are 36 weeks of lessons, five days a week, with a somewhat lighter schedule on most Fridays.
On Fridays, the student and parent have a conference to discuss the week's topics and review completed work.
Bible
Learn concepts and skills for spiritual growth, developing lifelong habits and practices. Students are encouraged to surrender all areas of their lives to Christ. Includes practical instruction in spiritual disciplines such as Bible reading, in-depth Bible study, memorization, meditation, and different types of prayer.
Participate in service projects chosen and/or developed by the student and the parent/teacher.
U.S. History 1877 to the Present (first semester)
Study U.S. history from 1877 to the present. While using BJU United States History students complete comprehension questions, extension activities with maps, and chapter tests. One semester credit.
Understand national and international current events from a Christian perspective and develop a desire to pray for them.
Economics (second semester)
Understand the economic forces that shape our world. This thorough and understandable course blends the best of print and audio/visual resources currently available, covering both micro and macroeconomics. One semester credit.
Note: If the student has not already completed Personal Finance, we recommend completing the course during the first semester before taking Economics.
Geography (one or two semesters)
Learn geography as it relates to current events and develop a heart to pray for those needs.
Complete assigned world and continent maps.
When combined with the maps from World History and Literature, completed in a previous year, one semester credit may be earned, which is usually sufficient. To earn a full-year credit (to meet state requirements or personal learning goals), plan to add an additional 75 hours of work throughout the year. Select from the following suggested activities:

Read one missionary biography per quarter (four total) and write a one-page personal reaction to each book. Suggested biographies are Bruchko, The Narrow Road, Peace Child, and I Dared to Call Him Father (available from My Father's World in the 7th–8th Grade Supplement for Exploring Countries and Cultures).
Take a pre-test for identifying the locations and names of countries, major rivers, etc. Then set a goal with your parent/teacher for memorizing a certain number of them. Work on your goal until achieved. (The Geography Game in the Exploring Countries and Cultures Parent/Teacher Supplement may be used.)
Read/study general geography books found at your library. Another option: BJU has a year-long course with multiple components. Consider reading through just the textbook, Cultural Geography for Christian Schools.
Modern Literature/Speech (full year - one semester each)
Read significant books written after 1850 using a book list and the public library, and complete a short book analysis (included in the lesson plans).
Students choose from the list and may add other books that meet their educational goals with their parent/teacher's approval. Our lesson plans include the complete book list, plus helpful information such as a suggested number of weeks to read each book, how to schedule the books to coordinate with history topics being studied, and how to individualize the total number of books required. The books listed below are examples of suggested books students may choose to read. One semester credit.

The reading list includes choices of classics about U.S. culture for worldview analysis, such as:

The Call of the Wild — by Jack London

Buck, a dog taken from a peaceful home, encounters brutal life as a sled dog in Alaska. Portrays social Darwinism in fiction. (Another option is White Fang, a lengthier novel by Jack London, with even more overt social Darwinism.)

The Great Gatsby — by F. Scott Fitzgerald

A commentary on life in the 1920s, wealth, and the emptiness in the American dream.

1984 — by George Orwell

A powerful, frightening look at a future in which truth is whatever the Party decides to be truth. This is an example of a "negative utopia" book, in which man has no personal freedom or individuality. Some parents may want to preview for content (language, an affair), but we would generally recommend this book because of its powerful message.

The list also includes choices of biographies to challenge and inspire, such as:


Joni — by Joni Eareckson Tada

Joni, totally paralyzed from a swimming accident, recounts her spiritual journey from anger to joy in this autobiography.

Born Again — by Charles W. Colson

Autobiography of President Nixon's former special counsel who pled guilty to Watergate-related offenses. A remarkable story of God's mercy to call Mr. Colson to Himself and to a new life with purpose.

Develop speech skills to become an effective communicator for God's Kingdom. Do Hard Things challenges students to become involved and have a passion for change. Secrets of Great Communicators gives students tools to communicate God's heart to others. One semester credit.
Optional: Write a research paper (highly recommended for college-bound students).
Samples
FAQs