Package Contents
Basic Package Includes:
Teacher's Manual
Student Materials

(purchase one per additional student)

My Big Book of 5-Minute Devotions
Bible Reader

(purchase one per additional student)

Unifix Cubes
Geared Student Clock
Horizontal Addition and Subtraction Flashcard Set
The Complete Book of Math

(purchase one per additional student)

Wooden Pattern Blocks
Pattern Animals: Puzzles for Pattern Blocks
Things Outdoors
Science with Water
Science with Plants
And free gifts:
Deluxe Package Includes the Basic Package Plus:
Honey for a Child's Heart
Tales from Cherry Lane
Eric Carle's Animals Animals
Drawing with Children
Enjoying Art Together
Peter and the Wolf (CD)
Overview
Focus: God Gave Us His Word to Live By
Complete Curriculum
Bible Notebook
Bible Timeline
Hands-On Bible and Science
Easy-to-Teach Phonics
Genesis to Revelation
Foundational Math Principles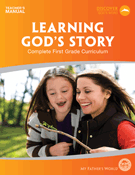 Learning God's Story
is our complete first grade homeschool curriculum with a phonics-based reading program that focuses on the Bible. The integrated lessons also include language arts, social studies, science, math, and art. Easy-to-teach lesson plans guide you through an entire school year.
Using a thematic approach
, this learning adventure focuses on Bible history from Genesis to Revelation. Phonics lessons develop the needed skills to read Bible stories from our
Bible Reader
. Students retell (narrate) the Bible story and create a lovely keepsake
Bible Notebook
in which they summarize and illustrate Bible stories. Weekly memory verses selected from Proverbs help strengthen handwriting skills as well as Biblical character.
Hands-On Projects
These projects help the students understand and experience the world of the Bible. Creating a timeline helps to visualize Bible stories as actual events that fit into history. Making a Bible-times costume and celebrating a Sabbath meal help students understand the culture of the Bible.
Reading
Step-by-step instruction in phonics makes teaching reading easy.
Learning God's Story
begins with a quick review of letter names and sounds, followed by in-depth teaching of all necessary phonics to produce an independent reader. The Teacher's Manual provides easy-to-follow daily lesson plans that teach new skills and allows continuous review. Student worksheets reinforce phonics, spelling, and handwriting skills.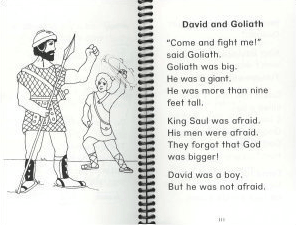 By week 13 students are reading Bible stories in a special beginning level
Bible Reader
, which is included with the curriculum.
Science
Learn about nature, using three age-appropriate, engaging science books included with the curriculum.
Math
The Teacher's Manual includes goals and activities for a hands-on approach to best develop foundational math principles with manipulatives and a supplementary math workbook to reinforce skills.
The first grade program is an ideal follow-up to My Father's World kindergarten program,
God's Creation from A to Z
, but may be used by any student who is ready for first grade reading. If your child is not yet reading simple short vowel words, he may be more successful if he begins with our kindergarten program. Please contact us if you have any questions about placement.
Samples
FAQs