Package Contents
Basic Package Includes:
Teacher's Manual
Student Sheets

(purchase one per additional student)

DK Illustrated Family Bible
Streams of Civilization, Volume 1 (2016, Third Edition)
Ancient World
Celebrating Biblical Feasts
Ancient Egypt
Aesop's Fables for Children (includes CD)
The Trojan Horse
The Children's Homer
Science in the Beginning
English from the Roots Up, Volume 1
Dinosaurs of Eden (Revised)
Pyramids
And free gifts:
Deluxe Package Includes the Basic Package Plus:
God and the History of Art

Paint and Marker Cards

(purchase one per additional student or photocopy for siblings)

Acrylic Paint Set
Best of Vivaldi, Bach, and Handel — six-CD set

Includes:
The Stories of Vivaldi and Corelli with Music
The Best of Vivaldi
The Story of Bach with Music
The Best of Bach
The Story of Handel with Music
The Best of Handel

Patricia St. John (Read-Alouds: three-book set)

Includes:
The Tanglewoods' Secret
Star of Light
Treasures of the Snow
Overview
Focus: Old Testament and Ancient History
Pyramids
Creation Science
Jewish Traditions
Greek Roots
God's Hand in History
Hands-On Notebook
Inspiring Read-Alouds
Music and Art Appreciation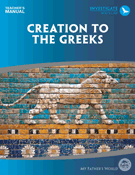 Creation to the Greeks follows Exploring Countries and Cultures and begins a four-year chronological study of history. Travel back in time to Old Testament days and explore ancient history. Provide a firm foundation for your study of history as you see how the Biblical account fits in with other civilizations such as Egypt, Greece, and Babylon. Enjoy the many hands-on projects, timeline, and history notebook.
We highly recommend that your family complete Exploring Countries and Cultures, before beginning your chronological study of history. This foundational study of countries, cultures, geographic terms, and God's heart for all people makes all future study of history more understandable and retainable. (2nd graders entering the family cycle will join older siblings in the program they are studying.)
This easy-to-teach unit study includes a teacher's manual and all required books for Bible, history, and science. The Deluxe Package also includes art, music, and more read-alouds. This program is designed for use with 4th-8th graders and 2nd-3rd graders with older siblings in the program. (For classroom use, please contact us for ordering information.)
Teacher's Manual
Daily lesson plans are in an easy-to-use weekly chart format. Charts list each subject with page numbers of books to read and instructions for using Student Sheets. Many activities will be suitable for all ages; additional reading is sometimes suggested for older students. Many simple hands-on activities are included in the Teacher's Manual to reinforce the study of history. We do the lesson planning for you so that you have more time to enjoy teaching!
Bible/History
Study Old Testament stories in depth using your Bible combined with the DK Illustrated Family Bible and Ancient World for helpful background information.
Participate in the Jewish feasts celebrated in Old Testament times and learn how they point to Jesus, the Messiah, using Celebrating Biblical Feasts.
Integrate the history of other civilizations, such as Egypt, Assyria, Babylon, and Greece, with Old Testament history. Learn how the 10 plagues were a judgment against Egypt's gods, and why Israel and Judah feared Assyria. All of history is viewed from a Christian perspective using the Bible, Streams of Civilization, and other resources.
Complete a timeline and create a history notebook, which includes a page for each major event or person, map work, and illustrations to color.
Enjoy playing the ancient Egyptian game of Senet, writing in cuneiform on clay tablets (cookies), and sampling Old Testament times food. Hands-on projects from Ancient Egypt and other sources reinforce learning.
Library books provide enrichment for topics that you study. We provide an extensive list of recommended books for independent reading, but none are required.
Science
Focus on the six days of Creation with science experiments from Science from the Beginning.
Study creation science using Dinosaurs of Eden and science related to the pyramids using Pyramids. Includes hands-on activities.
For 7th and 8th graders, use Apologia science instead of the above (purchase separately).
Art and Music
Enjoy hands-on projects from ancient history.
Music appreciation lessons focus on Vivaldi, Bach, and Handel with easy-to-use CD's (in the Deluxe Package).
Art lessons include drawing as well as Egyptian and Greek themes from a godly perspective, using God and the History of Art (in the Deluxe Package).
Read-Alouds
Enjoy the classic Greek stories, the Iliad and the Odyssey from The Children's Homer, as well as fables from Aesop's Fables for Children.
Books by Patricia St. John (The Tanglewoods' Secret, Treasures of the Snow, and Star of Light) inspire children to live the Christian life (in the Deluxe Package).
Math, Language Arts, and Foreign Language
Add Math and language arts.
Vocabulary lessons focus on Greek roots this year and Latin roots next year using English from the Roots Up (in the Basic Package).
Foreign language is optional but highly recommended.
Samples
FAQs
Synergy Groups
A Synergy Group™ is two or more families who meet weekly to participate in science, history/geography, art, and music activities from your MFW Teacher's Manual. The group leader uses a Synergy Guide which schedules easy-to-teach group activities with minimal preparation.
Learn more about Synergy groups