Package Contents
Curriculum Package Includes:
Daily Lesson Plans

(purchase one per additional student or photocopy for siblings)
Bible
Heroes of the Faith
More Than a Carpenter
Christianity, Cults & Religions
Four Views of the End Times
Experiencing God: Student Edition

(purchase one per additional student; one for each parent also recommended)
English
Julius Caesar (Shakespeare Made Easy: Modern English Version Side-by-Side with Full Original Text)
Writers INC
Beowulf (translated by Seamus Heaney)
British Literature (Parallel Text)
Teacher Guide for British Literature
Practicing His Presence (Brother Lawrence and Frank Laubach)
Pilgrim's Progress in Modern English
A Tale of Two Cities (abridged edition)
Silas Marner
Pride and Prejudice
Cry, the Beloved Country
Hudson Taylor's Spiritual Secret
The Hiding Place
Animal Farm
In His Steps
History
Timeline Figures - Resurrection to Revolution; Napoleon to Now

(photocopy for siblings)

World History Timeline Book

(purchase one per additional student)

History of the World (My Father's World Edition)
World History Map Activities
Rand McNally Historical Atlas of the World
Overview
Focus: Rome to Present and Church History
Verse-by-Verse Reading of the New Testament
Comprehension and Critical Thinking
Classics and British Literature
Research Paper
Composition Skills
Geography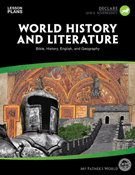 World History and Literature
is a one-year curriculum for high school that integrates history, English, and Bible (3 full-year credits).
World History and Literature lesson plans are written to the student for parent-guided independent work. On Fridays, the student and parent have a conference to discuss the week's topics and review completed work. There are 36 weeks of lessons, five days a week, with a somewhat lighter schedule on most Fridays. You will need to add science, math, and electives such as foreign language.
Evaluation of student work: Parents assign grades for coursework based on informal discussions, essays for English and history, and daily written questions and quizzes for history. There are no formal test for Bible or literature.
If you have more than one student in high school: Students may share most of the books in this program. This will involve establishing a workable time schedule for when each student may use each book. However, each student will need his own World History Timeline Book and Experiencing God. Pages for World History Map Activities and the timeline figures will need to be photocopied for additional students. Lesson plans are designed to be written in by the student as a record of the school year; you may photocopy the plans for siblings. Some families may want to buy additional copies of books so that students do not have to share books.
Bible (New Testament/Church History) and World History
Read the entire New Testament as well as challenging books such as Experiencing God: Student Edition and More Than a Carpenter. The concepts in Experiencing God are life changing. We strongly encourage parents, especially dads, to purchase their own book and complete this study to help in guiding a weekly discussion with the student as well as for personal spiritual growth.
Study world history from Rome to modern times. Assignments include reading with comprehension questions, unit quizzes, and map work. Students also create a detailed timeline. Church history is integrated with the history studies.
Participate in service projects chosen and/or developed by the student and the parent-teacher.
Literature and Composition
Enjoy and analyze (from a Christian perspective) literature written during or about historical periods being studied: Julius Caesar, Beowulf, Pilgrim's Progress, Pride and Prejudice, The Hiding Place, Animal Farm, and more. Also read short selections from classic works of British literature such as The Canterbury Tales, Paradise Lost, and Gulliver's Travels.
Learn how to write a research paper with detailed, step-by-step instructions.
Develop a wide range of composition skills with topics from literature and history. Writers INC is used as a guide for essays and other writing forms.
Geography and Fine arts
Completion of all assigned maps earns 1/4 credit of geography. This credit may be combined with the geography included in Year 4, U.S. History 1877 to the Present, to provide up to one credit of geography.
The lesson plans also include recommendations for completing a fine arts credit.
Samples
FAQs