S2K Commerce - Products Dropdown
Actions
Wee Sing Around the World CD
ISBN: 9780843120059
Explore the music of the world with this tour of favorite children's songs. Each is performed in its native language and in English. Includes 44 songs and a 64-page illustrated book of lyrics.
All clearance items are NON-RETURNABLE.
Overview
A musical journey to faraway places!
¡Hola! Bonjour! Ciao! Join Wee Sing on a musical tour of favorite children's songs from around the world, all written and performed in their native languages as well as in English. Learn international facts about people, places, and cultures, and experience the.joy of music from across the globe!
Track List:
Hello to All the Children of the World
Going Over the Sea - Canada
Uhe Basho Sho (The Crooked Path) - United States
Eentsy, Weentsy Spider - United States
Pin Pon (Paper Doll) - Mexico
Tingalayo (Donkey Song) - West Indies
El Coqui­­ (The Frog) - Puerto Rico
Chi Chi Bud (Chi Chi Bird) - Jamaica
Brown Girl in the Ring - Guyana
Ciranda (Circle Game) - Brazil
Mi Chacra (My Farm) - Argentina
Los Pollitos (The Little Chicks) - Peru
Ro, Ro Til Fiskeskjaer (Row, Row to the Fishing Spot) - Norway
Sma Grodorna (Little Frogs) - Sweden
En Enebaer Busk (The Mulberry Bush) - Denmark
Piiri Pieni Pyorii (The Circle Goes Around) - Finland
Wee Falorie Man - Ireland
Coulter's Candy - Scotland
Lavender's Blue - England
Alle Eendjes (All the Ducklings) - The Netherlands
Frere Jacques (Brother John) - France
Weggis Zue (Swiss Hiking Song) - Switzerland
Alle Meine Entchen (All My Little Ducklings) - Germany
Mio Galletto (My Little Rooster) - Italy
Mi Burro (My Burro) - Spain
Pou'n-do To Dachtilidi (Where Is the Ring?) - Greece
Ringe, Ringe Raja (Ring Around Raja) - (former) Yugoslavia
Veselee Husi (Jolly, Happy Ganders) - Ukraine
Tue Tue (Clapping Game) - Ghana
Akwa Nwa Nere Nnwa (The Little Nanny Story) - Nigeria
Bebe Moke (Baby So Small) - Zaire
Kanyoni Kanja (Little Bird Outside) - Kenya
Ali Baba'nin Ciftligi (Ali Baba's Farm) - Turkey
Zum Gali Gali (Work Song) - Israel
Attal Mattal (Rhythm Game) - Iran
Anilae Anilae (Chipmunk, Chipmunk) - India
Kai Veechamma (Move Your Hand) - India
Fong Swei (After School) - China
Arirang (Arirang Hill) - Korea
Ame, Ame (Rain Song) - Japan
Pok Amai, Amai (Clap Together) - Malaysia
Australia - Australia
Epo I Tai Tai E (I Will Be Happy) - New Zealand
Nani Wale Na Hala (Pretty Hala Trees) - Hawaii
Hello-Reprise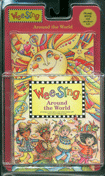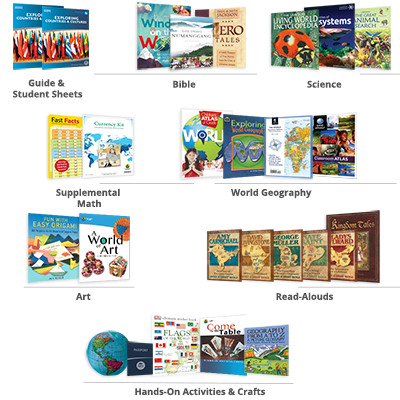 Travel the world as you explore diverse countries and cultures while learning geography. Read true stories of missionaries and the Gospel of Matthew to understand God's heart for the world in this year-long curriculum for 3rd-8th grade.
Students are introduced to the physical and spiritual needs of mankind as they learn about ecosystems and lifestyles in different parts of the world. Prepare traditional food, make native crafts, and listen to ethnic music.
WARNING: CHOKING HAZARD--Small parts. Not for children under 3 years.