S2K Commerce - Products Dropdown
Actions
Adventures in U.S. History Package
Travel back in time and explore U.S. history from a Christian perspective with fascinating stories, hands-on activities, a timeline, and a student-created history notebook. Study the names of Jesus, learning about His character while reading from a grade-level Bible. Science lessons correlate with the names of Jesus, and U.S. history spotlights the biblical character of America's forefathers.
2nd or 3rd Grade
Adventures in U.S. History
Travel back in time and explore U.S. history and patriotic symbols from a Christian perspective with fascinating stories, hands-on activities, a timeline, and a student-created history notebook. This 2nd or 3rd grade homeschool curriculum also includes U.S. geography, Bible, science, art, music appreciation, and more.

Educational Development
with My Father's World
U.S. History and the 50 States
Patriotic Symbols
Nature Studies
Children in History
Notebooking and Timeline
Hands-On Activities
Adventures in U.S. History is a one-year program for 2nd or 3rd graders who are the oldest in the family. 2nd or 3rd graders with older siblings in 4th - 8th grade should skip Adventures and go directly into the Family Learning Cycle, joining in their siblings' current program. This ensures that a parent is only teaching one program for all 2nd - 8th graders. The U.S. history in Adventures is covered again in Exploration to 1850 and 1850 to Modern Times in greater detail. 2nd or 3rd graders in those two programs use a supplement that includes many books from Adventures. For Classroom use, go to our Christian Schools page.
The Goals of Our Program Are:
Checkmark
Teacher's Manual:Daily lesson plans are in an easy-to-use weekly chart format that lists each subject with the appropriate book titles and page numbers to complete each day.
Additional helpful information and directions for using Student Sheets and hands-on activities are included. We do the lesson planning for you so that you have more time to enjoy teaching!
Checkmark
Bible:Learn how wonderful Jesus is as you study about the Bread of Life, the Lamb of God, the Good Shepherd, the Rock, and more. Includes hands-on activities and memory verses. Children enthusiastically read the Bible for themselves using the NIrV Discoverer's Bible for Young Readers. This Bible, based on the NIV and adapted for beginning readers, uses large 12-point type.
Checkmark
Science:Explore the fascinating world of science: stars, weather, plants, animals, atoms, energy, gravity, friction, sound, computers, and much more.
Enjoy beautiful full-color pictures and interesting information in the First Encyclopedia of Science.
Hands-on science activities are included in Science in the Kitchen and Science with Air.
Nature studies include Birds, Nests, and Eggs, and optional weekly nature walks.
Checkmark
U.S. History and Geography:Enjoy hands-on art projects related to history, geography, and Bible.
Learn patriotic songs.
Checkmark
Music and Art:Music appreciation lessons focus on Tchaikovsky's Nutcracker and more.
Develop a variety of art skills - drawing, using colored pencils and colored markers, and beginning painting - with I Can Do All Things.
Checkmark
REQUIRED - Add Language Arts:Add Language Lessons for Today (2nd Grade) or Language Lessons for Today (3rd Grade) and Spelling by Sound and Structure (2nd grade) or Spelling Power (3rd grade), and Merriam-Webster's Elementary Dictionary (3rd Grade).
Synergy Group
A Synergy Group is two or more families who meet weekly to participate in science, history/geography, art, and music activities from your MFW Teacher's Manual. The group leader uses a Synergy Guide which schedules easy-to-teach group activities with minimal preparation.
Learn More

"It is hands down the absolute BEST year of homeschool I've ever had! It is wiggle friendly and completely manageable."

Teresa
Compare Basic & Deluxe Contents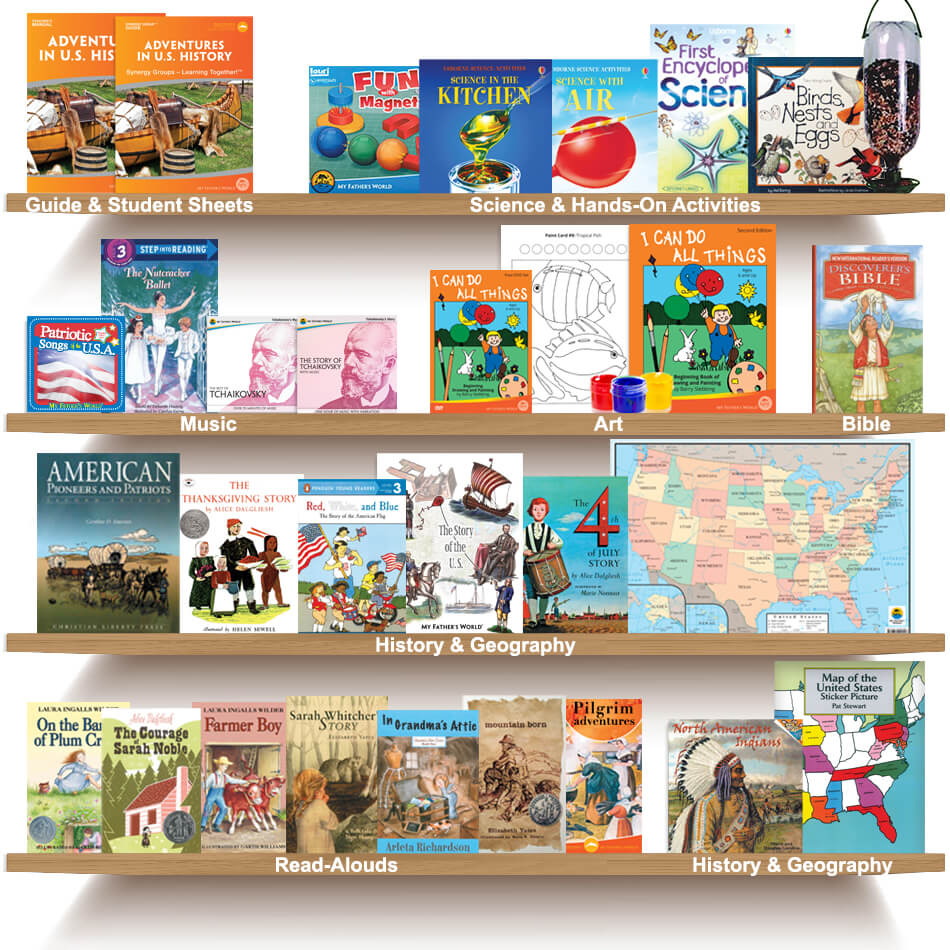 WARNING: CHOKING HAZARD--Toy contains a small ball and small parts. Not for children under 3 years.