Package Contents
Second Edition Basic Package Includes:
Teacher's Manual
Student Sheets

(purchase one per additional student)

Include: student pages, teaching charts, game cards, badge patterns, monthly calendars, short vowel song cards, 100 chart for math, and activity sheets

Alphabet Flashcards
A-Z Textured Letters by Lauri
For The Children's Sake
Say Hello to Classical Music CD
What Really Happened to the Dinosaurs?
How to Make an Apple Pie & See the World
The Year at Maple Hill Farm
Love You Forever
Little Jewel Bird
How to Hide a Butterfly and Other Insects
God's Amazing World
Inflatable Globe
Cuisenaire® Rods
Cuisenaire® Rods Alphabet Book
And free gifts:
Second Edition Deluxe Package Includes the Basic Package Plus:
Moonbear's Shadow
Little Bear
A Tree Is Nice
Annie and Snowball and the Cozy Nest
The Tortoise & the Hare
Swimmy
Make Way for Ducklings
The Bee Tree
Amazing Animal Alphabet
The Story of Ferdinand
Fritz & the Beautiful Horses
Seven Blind Mice
Tacky the Penguin
Katy No-Pocket
Stone Soup
Frog & Toad Are Friends
Mouse & Mole, Fine Feathered Friends
The Color Kittens
Tales of Peter Rabbit & Jemima Puddle-Duck w/ CD
Overview
Focus: God Created the World and Everything in It
Complete Curriculum
Hands-On Units
Multi-Sensory Phonics
Step-by-Step Instructions
Character Development
90 Minutes Daily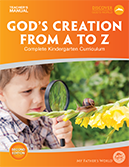 A year-long hands-on learning adventure for young children. This complete kindergarten homeschool curriculum contains all necessary subjects and is ideal for homeschool or classroom. The first two weeks focus on the Creation story from Genesis, followed by 26 hands-on, easy-to-teach thematic units (one letter each week) that focus on the wonders in God's creation. The sun, moon, rocks, vegetables, elephants, butterflies, and dinosaurs are just a few of the exciting topics you will explore.
Second Edition (2017) includes a Christmas unit for December with Bible stories and hands-on activities. Children also enjoy a new Fruit of the Spirit unit at the end of the year, focusing on character (love, joy, peace, etc.) as well as cooking, science, and more. Both of these units have new, colorful Student Sheets.
Reading
This highly successful multi-sensory phonics approach makes teaching reading easy. Hands-on and workbook activities are combined to teach letter names, 26 letter sounds (consonants and short vowels), sound blending, and correct handwriting. Students learn to read and write short vowel words.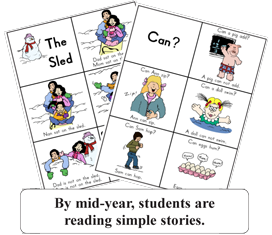 By mid-year they are reading very simple stories. The reading lessons may be used successfully with kindergarten-aged children or with older children who are just beginning to learn letter sounds.
As part of our "learning to love to read" focus, for each unit children enjoy a children's literature book related to the theme plus related activities.
Math
Our informal, integrated approach helps children easily learn foundational math concepts. In addition to the daily hands-on math routines and worksheets for each unit, many skills are woven into the lessons as students cut an apple in half, measure and compare the lengths of dinosaurs and whales, and order leaves by size. All typical kindergarten goals are taught, including counting objects, writing numerals, preparing and understanding charts and graphs, comparing, classifying, sequencing and understanding ordinal numbers, fractions (whole/half), clocks, money, and an introduction to addition and subtraction.
Bible, Science, Creative Thinking, Children's Literature, and Art
These subjects are integrated into the 26 easy-to-teach thematic units. Each week focuses on one alphabet letter and one corresponding science topic. For example, "S-s-sun":
Students learn letter "s" and number 1
Study about the sun, construct and use a sundial, observe and chart grapes as they become raisins, paint a sun, and listen to a funny book about shadows
Learn that, like the sun, Jesus is the Light of the World
Character Development
This special focus is integrated into each unit.
The turtle lesson teaches, "I don't quit -- I persevere!"
The horse lesson teaches, "I obey right away."
The zebra lesson teaches, "I can't hide anything from God."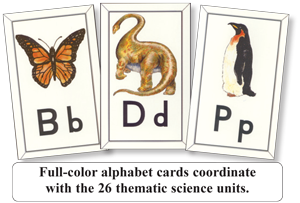 Alphabet Flashcards
Daily Lessons
Clearly written step-by-step, 90-minute daily lessons in a grid lesson plan chart for each week are of great help to new homeschool teachers. Daily work is presented in four parts:
Reading/Language Arts and Math – includes 100 Chart and monthly calendar, poems, phonics-based reading lessons, handwriting
Activities – Bible/character development lesson and the day's special hands-on activity focusing on science, math, art, children's literature, and creative thinking (Children ages 3-8 may learn together using these activities.)
Read Aloud
Outside Time
Samples
FAQs