S2K Commerce - Products Dropdown
Actions
God's Creation from A to Z Package Second Edition
God's Creation from A to Z is a learning adventure that will encourage a lifetime love of exploration and discovery. The 26 hands-on, easy-to-teach thematic units focus on the wonder of God's creation. The sun, moon, rocks, vegetables, elephants, butterflies, and dinosaurs are just a few of the exciting topics you will explore.
Kindergarten
God's Creation from A to Z
A year-long hands-on learning adventure for young children. This complete Christian kindergarten homeschool curriculum contains all necessary subjects and is ideal for homeschool or Christian Schools. The first two weeks focus on the Creation story from Genesis, followed by 26 hands-on, easy-to-teach unit studies (one letter each week) that focus on the wonders in God's creation. The sun, moon, rocks, vegetables, elephants, butterflies, and dinosaurs are just a few of the exciting topics you will explore.

Educational Development
with My Father's World
Complete Christian Curriculum
Hands-On Units
Multi-Sensory Phonics
Step-by-Step Instructions
Character Development
90 Minutes Daily
The Goals of Our Program Are:
Checkmark
Reading:This highly successful multi-sensory phonics approach makes teaching reading easy. Hands-on and workbook activities are combined to teach letter names, 26 letter sounds (consonants and short vowels), sound blending, and correct handwriting. Students learn to read and write short vowel words.
By mid-year they are reading very simple stories. The reading lessons may be used successfully with kindergarten-aged children or with older children who are just beginning to learn letter sounds.
As part of our "learning to love to read" focus, for each unit children enjoy a children's literature book related to the theme plus related activities.
Checkmark
Math:Our informal, integrated approach helps children easily learn foundational math concepts. In addition to the daily hands-on math routines and worksheets for each unit, many skills are woven into the lessons as students cut an apple in half, measure and compare the lengths of dinosaurs and whales, and order leaves by size. All typical kindergarten goals are taught, including counting objects, writing numerals, preparing and understanding charts and graphs, comparing, classifying, sequencing and understanding ordinal numbers, fractions (whole/half), clocks, money, and an introduction to addition and subtraction.
Checkmark
Bible, Science, Creative Thinking, Children's Literature, and Art:These subjects are integrated into the 26 easy-to-teach thematic units. Each week focuses on one alphabet letter and one corresponding science topic. For example, in the first lesson, "S-s-sun":
Practice correct letter formation for s
Read the sound /s/ (rather than the name of the letter); as more sounds are added, blend sounds and read words that focus on the sound of the week
Study about the sun, construct and use a sundial, observe and chart grapes as they become raisins, paint a sun, and listen to a funny book about shadows
Learn that, like the sun, Jesus is the Light of the World
Checkmark
Character Development:This special focus is integrated into each unit.
The turtle lesson teaches, "I don't quit -- I persevere!"
The horse lesson teaches, "I obey right away."
The zebra lesson teaches, "I can't hide anything from God."
Daily Lessons
Clearly written step-by-step, 90-minute daily lessons in a grid lesson plan chart for each week are of great help to new homeschool teachers. Daily work is presented in four parts:
Part 1
Reading/Language Arts and Math
Includes 100 Chart and monthly calendar, poems, phonics-based reading lessons, and handwriting.
Part 2
Activities
Bible/character development lesson and the day's special hands-on activity focusing on science, math, art, children's literature, and creative thinking.*
Part 3
Read Aloud
Books and poems scheduled in the Teacher's Manual; included in the Package.
Part 4
Outside Time
Unstructured outside play for health and large motor development.
*Children ages 3-8 may learn together using these activities.

"Your lessons are so wonderfully laid out. My daughter used to say, 'I don't want to do school.' Now she sits right down!"

J.O., Oregon
Compare Basic & Deluxe Contents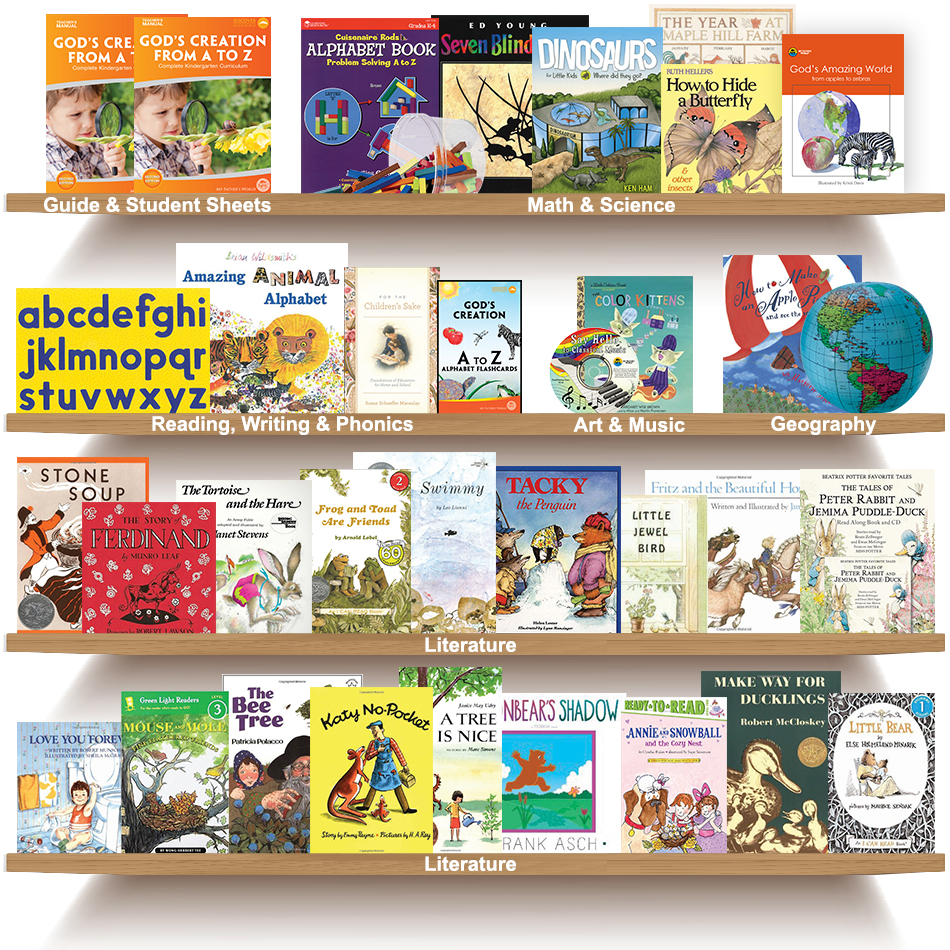 WARNING: CHOKING HAZARD--Small parts. Not for children under 3 years.