S2K Commerce - Products Dropdown
Actions
In Grandma's Attic
Arleta Richardson
ISBN: 9780781403795
Here are marvelous tales - faithfully recalled for the delight of young and old alike, a touchstone to another day when life was simpler, perhaps richer; when the treasures of family life and love were passed from generation to generation by a child's questions... and the legends that followed enlarged our faith.
Overview
True Stories of Yesteryear with Timeless Lessons for Today
Remember when you were a child - when all the world was new, and the smallest object a thing of wonder? Arleta Richardson remembers: the funny wearable wire contraption hidden in the dusty attic, the century-old schoolchild's slate that belonged to Grandma, an ancient trunk filled with quilt pieces - each with its own special story - and the button basket, a miracle of mysteries. And best of all was the remarkable grandmother who made magic of all she touched, bringing the past alive as only a born storyteller could.
As a little girl, Arleta never would have guessed what her grandma was up to when she was her age. That is, until she discovered the secrets hidden in her grandma's attic. Everything she found sparked a tale of Grandma's life in simpler times and a life lesson her grandma had learned. A quilt square reminded her grandma to avoid pride. A shoe button inspired a story about honesty. And what was that wire thing Grandma wore?
But the most amazing thing Arleta discovered? Grandma had been a little girl just like she was, trying to be good but often getting into trouble, sometimes without even meaning to! Filled with fun and laughter, Grandma's stories will whisk you away to another time and place.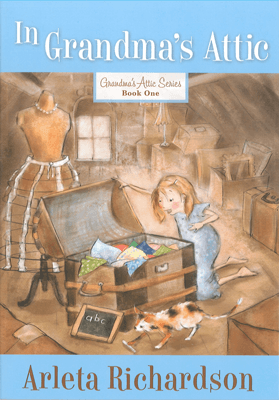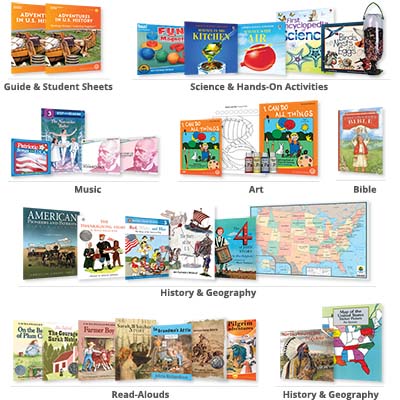 Travel back in time and explore U.S. history from a Christian perspective with fascinating stories, hands-on activities, a timeline, and a student-created history notebook with this year-long second grade curriculum.
Study the names of Jesus, learning about His character while reading from a grade-level Bible. Science lessons correlate with the names of Jesus, and U.S. history spotlights the biblical character of America's forefathers.
WARNING: CHOKING HAZARD--Toy contains a small ball and small parts. Not for children under 3 years.