by David Hazell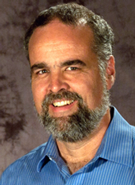 David Hazell has been involved in homeschooling since 1987, several of those years as the primary homeschooling parent. He is passionate about families serving Christ together. A strong believer in the value of home education for all ages, David is a popular speaker at homeschooling conventions, family conferences and churches across the country. He is the author of God Speaks Numanggang, a book about Bible translation, and is on the board of the Institute for Bible Translation. The Hazell family spent eight years in Russia where David served in Bible translation in Siberia and Moscow, helping coordinate Bible translations into more than 70 languages. His six children often accompanied him as he traveled throughout Russia and Europe. Today David and Marie work together developing My Father's World curriculum and encouraging families to see the world through God's eyes and live according to that knowledge.
I left David's workshop feeling encouraged and excited about my homeschool and so eager to be a better and more involved mom and teacher.
Holly
Description
Price
Quantity

David developed 11 one-hour seminars for a family camp in Pennsylvania in 2004 based on the inspiring hymn by Frances Havergal. Each seminar focuses on the themes presented in this hymn using Scripture and stories to challenge families and individuals to re-evaluate every aspect of their life as they prepare to be more fully dedicated to God. These messages address stewardship of time, talent, money, character, intellect, family, emotion, will, love, and more. Includes David Hazell's testimony.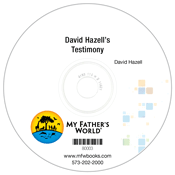 What passion has God placed in your heart and what is He doing to prepare you to fulfill that calling? Are you waiting on prayers to be answered? Do you wonder if God still hears your heart's cry? Experience the story of how an illness and a bicycle ride would change not just one man's life, but affect thousands; the residual affects still producing fruit for the Kingdom today. Be inspired and reminded that God is always working on your behalf, and His timing is perfect. (included in Take My Life and Let It Be)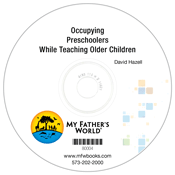 Our children are precious gifts from the Lord but sometimes they can interfere with our human plans. Many homeschooling parents are in distress because they find their little ones seeking attention at all the wrong times. As the father of six children, David Hazell, along with his wife, Marie, have found creative ways to prepare these young "sponges" for school while keeping them creatively occupied at times when the parent needs to concentrate on the older ones. This workshop is full of practical suggestions for educational toys and common household items that can be used to educate and occupy young ones. Homeschooling with young ones can be easier than you think!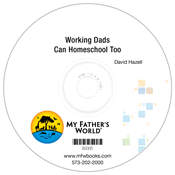 What is your current role in your family's homeschool? Believe it or not, busy dads can be involved in school too. There are simple things you can do to connect with your children and help de-pressurize your wife's already overloaded day. David introduces interesting, easy, and time effective ways for dads to become active parts in the homeschooling process, without interfering in the work day. Leading devotions, instituting a "Mom's Day Off," guiding the slimy science experiments, reading books aloud, and going to the library are just a few of the things David will introduce. Homeschooling is hectic, but in the truest sense it is eternal discipleship. Learn to stand with your wife side-by-side and watch her sparkle.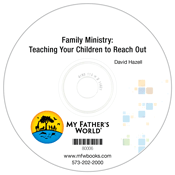 Young or old, no matter where you live, every member of your family can be a missionary. Help your children develop a heart for God and others, right from the start. This seminar includes fun, easy, and impacting ideas encouraging your family to establish a natural plan for serving others. Strategic curriculum choices and family service projects can nurture a desire for service and missions in your children's hearts and minds.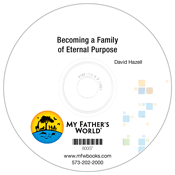 Teach your children to serve in God's Kingdom. Drawing from the rich experiences of living as a family in Russia and the U.S., let David encourage you to broaden your children's knowledge of God's world. Many simple ideas are presented for involving toddlers, youngsters, teens, young adults, and busy parents in a life committed to ministry. Hear stories of families who have served lunch to the homeless, enjoyed regular visits to nursing homes, befriended international students, raised money for missions, and much more. Learn how your entire family can simply and effectively reach the world for Christ, often without leaving your neighborhood.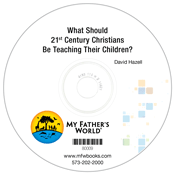 Today's homeschooling parents have a great opportunity: to raise their children in a way that truly can change the world for Christ. What are the keys to accomplishing that? Classical education is often defined by what was taught to children long ago. The better question is: what did classical tutors intend students to know once they were educated? What would these tutors teach our children today if they were in our homes, in our culture, with our language, and with 21st century knowledge? Learn the difference between the Greco-Roman model and Hebraic model of classical education. How can we put our children on the path of a Biblical worldview right from the start?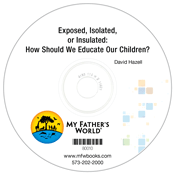 In today's society, our children are bombarded by peer pressure, self-centered ambitions, and harmful cultural expectations. It is very difficult to protect their precious minds as dangers lurk all around them. Even the best kids can be side-tracked from God's purpose. Biblical directives guide us to raising kids with eyes on Him and His work. Learn how we can insulate our children from evil and equip them to battle against it. Let us rather prepare them to spread God's Kingdom into a dark and needy world.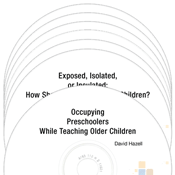 Includes seven CDs by David Hazell
Becoming a Family of Eternal Purpose
Exposed, Isolated, or Insulated: How Should We Educate Our Children?
Family Ministry: Teaching Your Children to Reach Out
Occupying Preschoolers While Teaching Older Children
What Should 21st Century Christians Be Teaching Their Children?
Working Dads Can Homeschool Too
David Hazell's Testimony