S2K Commerce - Products Dropdown
Actions
Hide 'Em in Your Heart, Two-CD Set
Steve Green
What could be sweeter than hearing your children sing Bible verses while going about their day? This collection of 41 Bible verses set to music will help your whole family easily memorize Scripture and hide God's Word in your hearts.
Overview
Hosted by Dove award-winning Sparrow recording artist Steve Green, Hide 'Em In Your Heart Volumes 1 and 2 introduce children to Bible verses in a fun, interactive way.
Volume 1
Let The Little Children Come (Matt 19:14)
Do To Others (Matt 7:12)
This Is How We Know (1 John 3:16)
Overcome Evil With Good (Rom 12:21)
When I Am Afraid (Ps 56:3-4)
Children Obey Your Parents (Eph 6:1)
Our Father In Heaven (Matt 6:9-13)
And Jesus Grew (Luke 2:52)
Believe In The Lord (Acts 16:31)
You Are The Light Of The World (Matt 5:14-16)
Keep Your Tongue From Evil (Ps 34:13)
You Shall Love The Lord (Matt 22:37)
Hosanna! (Matt 21:9-11)
Where Two Or Three (Matt 18:20)
I Can Do All Things (Philip 4:13)
Trust In The Lord (Prov 3:5-6)
Without Complaining (Philip 2:14)
For All Have Sinned (Rom 3:23)
For God So Loved (John 3:16)
Even A Child (Prov 20:11)
Your Word Is A Lamp (Ps 119:105)
Volume 2
Train Up A Child (Proverbs 22:6)
Encourage One Another (1 Thessalonians 5:11)
Greater Love (John 15:13)
Do Not Worry (Matthew 6:25, 26 & 34a)
G-0-D Is L-0-V-E (1 John 4:16)
Honor Your Father And Mother (Deuteronomy 5:16)
If We Don't Lose Heart (Galatians 6:9)
In My Father's House (John 14:2)
God Loves A Cheerful Giver (2 Corinthians 9:7)
We Love Him (1 John 4:19 & 10)
There Is A Friend (Proverbs 18:24b)
You Knit Me Together (Psalm 139:13 & 14)
Think About Such Things (Philippians 4:8)
Give Thanks To The Lord (Psalm 118:1)
The Eyes Of The Lord (Proverbs 15:3)
A Joyful Heart (Proverbs 17:22)
The Fruit Of The Spirit (Galatians 5:22 & 25)
Where Your Treasure Is (Matthew 6:19-21)
All Things Work Together For Good (Romans 8:28)
I Will Lie Down And Sleep (Psalm 4:8)
I Have Hidden Your Word (Psalm 119:11 & 9)
This item is temporarily unavailable.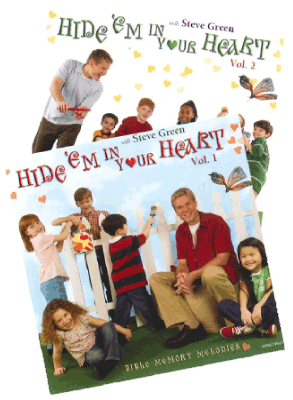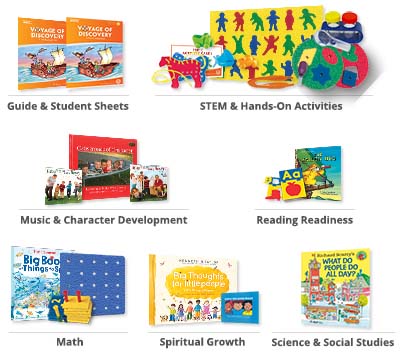 With the Voyage of Discovery pre-K program, children will gain academic-readiness skills with the alphabet and numbers, enjoy read-aloud times, develop fine and large motor skills, and increase in cognitive skills.
Most importantly, children learn God's truth and are encouraged to live it in their lives.
WARNING: CHOKING HAZARD--Small parts. Not for children under 3 years.