S2K Commerce - Products Dropdown
Actions
The U.S. History Cookbook
Joan D'Amico and Karen Eich Drummond
ISBN: 9780471136026
From the Pilgrims to modern day, discover how Americans have lived and dined over the centuries in this culinary tour of the United States.
Overview
Serve up a heaping lesson of history with delicious recipes from America's past.
Who knew history could be so delicious? In The U.S. History Cookbook, you'll discover how Americans have lived and dined over the centuries. This scrumptious survey of periods and events in U.S. history mixes together a delectable batter of food timelines, kid-friendly recipes, and fun food facts throughout each chapter, including such fascinating tidbits as: Sunday was baked bean day in many colonial family homes; pioneers took advantage of the rough trails to churn milk into butter; the Girl Scouts first started selling cookies in the 1930s to save money for summer camp; and so much more!
Each chapter discusses a different period in American history, tells you about typical foods and cooking styles of the time, and includes recipes you can make.
Kids will have a great time learning about the past while they cook up easy and yummy recipes, including:
Cornmeal Blueberry Mush, a favorite dish of the Native Americans of the Northeast
King Cake, the traditional cake served at the Mardi Gras Festival in New Orleans, Louisiana
Amazing Country Scrambled Eggs, an essential part of any hearty pioneer breakfast
Cocoanut Pudding, a favorite dessert of travelers riding the transcontinental railroad in the 1870s
Baked Macaroni 'N' Cheese, a popular and inexpensive dish enjoyed during the Depression
The U.S. History Cookbook also includes information on cooking tools and skills, with important rules for kitchen safety and cleanup.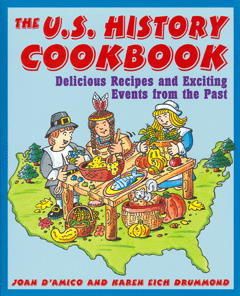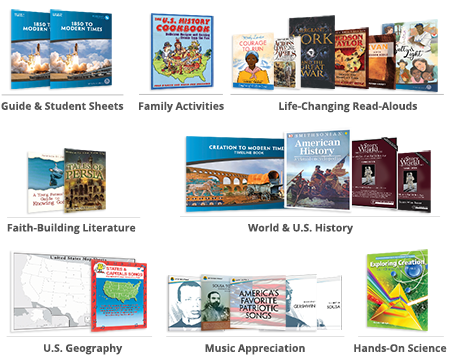 Enjoy learning U.S. and world history as you solve cryptography puzzles, bake Vietnamese Apricot Coconut Cake, and recite the Gettysburg Address in this year-long curriculum for 4th-8th grade.
Learn basic Christian beliefs and live out the amazing privilege and responsibility of sharing God's story of love with all people. Learn how prayer greatly impacts our world and its history, recognizing God's ultimate power in our universe.
WARNING: CHOKING HAZARD--Small parts. Not for children under 3 years.