Shop
>
High School (Declare)
9th - 12th Grade
Homeschool Curriculum Combining a Christian Worldview with Classical Education, Charlotte Mason, and Unit Studies
Declare

Each high school program is a one-year curriculum that integrates history (with government/economics/geography), English, and Bible (3 full-year credits) with detailed daily lesson plans written to the student for parent-guided independent work.

Graduate with
My Father's World
Comprehensive 4-Year Program
College Prep
Parent-Guided Independent Study
Bible, History and English Integrated
Service Projects
Full Range of Electives
The curriculum incorporates all needed language arts including composition (writing instruction and assignments), grammar, literature analysis, and reading lists. Each year of high school includes scheduled participation in student-selected community service projects.
Core Curriculum
Checkmark
History: With Government and EconomicsIncludes Ancient History, World History, and U.S. History.
Checkmark
English: With Ancient, World, and American LiteratureIncludes one semester of Speech.
Checkmark
Bible: With Christian Worldview and ApologeticsHigh school students embrace a strong biblical worldview while developing analytical skills and spiritual maturity. Students address many thought-provoking life issues including, "Will I live for my pleasure, or will I live for God's glory?"
Our recommended math, science, and elective courses.
Checkmark
Math: We recommend Saxon Math with one year of Jacobs Geometry. Our complete packages include the tools you need for older students to work more independently. Daily Lesson Plans developed by My Father's World assign specific problems each day. DIVE CDs use your computer to teach each lesson in the Saxon textbooks. Solutions Manuals show each problem worked out step-by-step.
Checkmark
Science: We recommend Physical Science through Advanced Biology. Daily Lesson Plans developed by My Father's World schedule daily assignments for reading and lab work (available for most levels). This makes it much easier for students to complete the course independently.
Checkmark
Electives: Many electives are available through My Father's World. Introduction to Logic is a great start in the first year and Personal Finance is a great ending to the high school years. Foreign Language should be considered for two consecutive years in high school.

"You will enjoy seeing your kids go through high school with MFW! I loved watching my daughter read the entire old Testament last year."

Dawn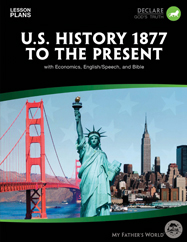 U.S. History 1877 to Present
Concepts and skills for spiritual growth are taught to encourage lifelong habits and practices. These disciplines include in-depth Bible study, Scripture memorization, and prayer. Literature and history assignments continue to include analysis from a Biblical worldview.